George, who was Black, was put to death in 1944 in the Jim Crow era of the South, after being accused of killing two white girls; Betty June Binnicker, 11, and Mary Emma Thames, 7.
The two girls are said to have been last seen while riding their bicycles in Alcolu, South Carolina, when they stopped to ask George and his younger sister Aime if they knew where they could find any maypops, the yellow fruit of passionflowers.
George's father was among those who searched for the missing girls, and the next day their bodies were discovered in a ditch with multiple head injuries.
When police learned the girls had been seen talking to George, they went to his home, handcuffed him and interrogated him without his parents, an attorney, or any witnesses.
Police claimed George had confessed to murdering the two girls, and he later underwent a trial that lasted just two hours.
A court-appointed lawyer did not call any witnesses to the stand or present any evidence to cast doubt on the prosecution's case against George.
There was no physical evidence against George, but deliberation took less than 10 minutes and an all-white jury found him guilty of murder.
Protesters petitioned Gov. Olin Johnston to grant the young boy clemency, but the attempts proved futile and he was executed on June 16, 1944.
It was a shocking 70 years before George's innocence was finally recognized.
Lawyers for his siblings, Aime Ruffner, Katherine Robinson and Charles, launched a legal bid for the verdict to be overturned, and in January 2014 his murder conviction was thrown out.
George's siblings have claimed his confession was coerced and that he was with Aime watching the family's cow when the murders took place.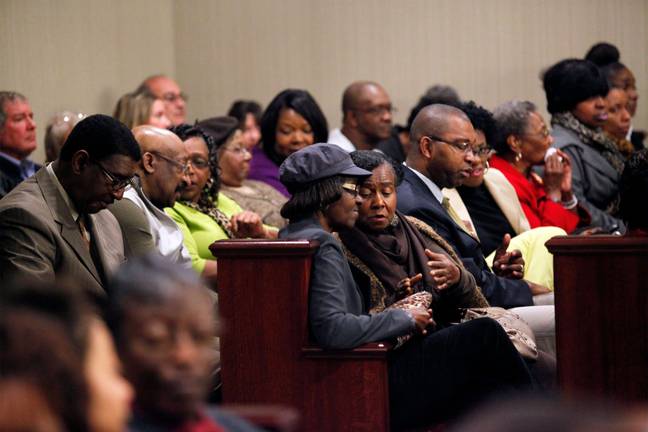 George's family also pointed out a man named Wilford "Johnny" Hunter, who claimed to be Stinney's cellmate, said the teenager had denied murdering Binnicker and Thames.
Judge Carmen T. Mullen described George's death sentence as a 'great and fundamental injustice'.
George's sister Katherine said the exoneration felt 'like a cloud just moved away'.
"When we got the news, we were sitting with friends… I threw my hands up and said, 'Thank you, Jesus!' Someone had to be listening. It's what we wanted for all these years," she said.